Description
Daniel Moore Crimson Legacy Mini Print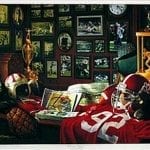 This Daniel Moore Crimson Legacy Mini Print has finally been released in the mini print format!!
This has long been one of Daniel Moore's most sought after prints and has only been available in a large limited edition format.
Daniel A. Moore was commissioned by his alma mater to commemorate the first one hundred years of football at The Capstone with the print simply entitled,
"Crimson Legacy"
. The painting captures the spirit of Alabama Football by portraying its rich tradition, fabled players, plays and great coaches. Coach Paul Bryant, the most notable in the coaches category, is duly honored. In fact, the artist takes us into Bryant's office by utilizing his desk, pen holder set, chair and hat. Even the clock pays tribute to the great coach. Strategically placed over the photo of the coach's hallmark goal-post pose, it is frozen in time at "three-twenty-three," the number of his career wins.
This print measures approximately 9 1/2 X 11 and has been personally hand signed by Daniel Moore himself!!
MORE DANIEL MOORE ALABAMA PRINTS
2013 ALABAMA FOOTBALL SCHEDULE