Description
Vinnie Sunseri The Shootout Print Larry Pitts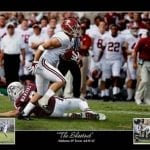 This limited edition Vinnie Sunseri print captures Vinnie Sunseri's amazing 73-yard interception return Saturday and was one of the many highlight-reel plays from the 49-42 win over Texas A&M on September 14th, 2013 at Kyle Field.
This print by Larry Pitts is signed and numbered and measures 11 x 17.
It's entitled
"The Shootout"
Alabama 49 – Texas A&M 42
"He was coming in pretty fast," Vinnie Sunseri said. "I had to step out of the way or he probably would have taken my knee out."
He became the first Alabama player to score on interceptions in consecutive games since Antonio Langham in 1992. But the safety was quick to identify the player who created the opportunity right after halftime.
"It was really exciting. It was a great opportunity to make a play in the game. All credit goes to Jarrick Williams made a great play," Sunseri said. "I was just there to catch the ball and run it in for him. He had the great coverage, he batted the ball into the air, I was just the recipient of the ball. All credit goes to him. He had a great game."
2013 ALABAMA FOOTBALL SCHEDULE